Thank you for your interest in Utahloy International School (UISG).
We look forward to learning more about your family and sharing our school programs with you throughout the admissions process. Whether you already live in China, or will be relocating here from another country, we understand that selecting a school for your child is a big decision for you and your family. Our Admissions Team is here year-round to help make sure that your family is well supported throughout the admissions process.
As you review the information below, please feel free to contact us if you have any questions: admissions@uisgz.org
As an international school aligned with the relevant regulations set by the Guangzhou Education Bureau, UISG is only able to offer enrollment to students holding a valid foreign passport or children who are Hong Kong, Macau, and Taiwan residents. We are not able to offer enrollment to children who hold a People's Republic of China passport.
If you are uncertain if your child is eligible to apply to UISG, please contact the Admissions Office before you begin the application process.
Admissions Process & Requirements
Want to know more about our school? We encourage you to contact us to schedule a campus visit or a personal conversation with a member of our Admissions team. We offer campus tours throughout the school year so that parents and children have an opportunity to visit our beautiful lakeside campus to see our school in action! Contact us today by e-mailing admissions@uisgz.org or following the link to submit our Enrollment Enquiry Form below.
Once you've made the decision that you want to join the UISG community, you can begin the process of submitting an application form online. Our application process is completed online through our OpenApply Admissions Portal and our Admissions Team will be able to follow along as you complete the steps and provide support when needed.
After you've submitted the application form, you must upload the following support documents as well:
A copy of each parent/legal guardian's passport and valid documentation to reside in mainland China.
A copy of student's passport and valid documentation to reside in mainland China.
We understand that a family living outside mainland China may not have a valid Chinese visa or residence permit yet. You can submit your passport copies first and email copies of visa or residence permit once available.
A copy of student's birth certificate
A passport-sized photo of the student for their student ID
A copy of student's official school reports from at least the last two school years. If available, please also provide their Certificate of Attendance and Enrollment issued by previous school. We request that all academic documents be submitted in English, or with a verified translation.
Confidential reference form: for students from Year 1-12, you will be required to use the online application portal to send a confidential reference request to your child's most recent teacher or Principal.
If your child has a diagnosed learning need, has received learning support in a previous school, or has any significant medical needs, detailed reports of their history of support must be provided.
A copy of student's most up-to-date vaccination record.
The application fee is RMB2,000 which is non-refundable and non-transferable. Note: Application cannot be processed without payment of application fee.


Admissions Testing: Depending on your child's age and English school experience, they may be required to complete an English assessment as part of the application process.
Interview: After an application has been completed, the Admissions Office will schedule an interview for your child with the Head of Division.
After you've completed all of the application requirements above, the Admissions Office will issue a formal admissions response based on the feedback of the Head of Division, Head of School, and Head of Admissions.
If your child is accepted to enroll at UISG, you will be provided an official enrollment letter and a debit note with payment deadlines required to secure their space. The Admissions Office will work closely with you and our academic leadership to support your child's successful transition to our learning community.
If your child has applied for a year level where we have reached our maximum capacity, they may be placed in the wait pool for future consideration. If space becomes available for them at a later date, the Admissions Office will follow up with parents to discuss the timeline of enrollment.
If your child is denied enrollment at UISG, the Admissions Office will inform you with an official letter of denial that outlines the reasons for why we are unable to offer enrollment to your child.
UISG Admission Policy is designed to encourage the maintenance of diversity in our student body, as well as to ensure that students who are admitted to UISG can benefit from our educational provision and be successful in terms of our structured objectives for learning. UISG is an inclusive school and aims to offer appropriate services to support the enrollment of English Language Learners (ELL) and students with mild Learning Support needs.
UISG is a co-educational, secular school established to serve, predominantly, expatriate families in China. Admission to UISG will be determined by the Head of School, based on information obtained with respect to:
The potential of the applicant to benefit from the educational services available.
The capacity of the school to meet the educational needs of the applicant.
The results of admission assessments, where applicable.
The availability of places. Students may be admitted at any time during the academic year unless the timing affects the completion of their courses.
Students wishing to enroll directly in the IBDP (Year 11-12) will need to meet additional language and course requirements as determined by the IB Diploma Coordinator.
The school reserves the right to deny admission or re-enrollment to any applicant if, in its opinion, there are reasons to believe that admission or re-enrolment would not be in the best interest of the applicant or the school. Examples of this include, but are not limited to:
Expulsion from a previous school for violent or aggressive behaviour, or any behaviour seen as a Serious Offence in our parent-student handbook.
A student not living with his or her immediate family or guardian.
A student not in possession of appropriate documentation to reside and study in Mainland China.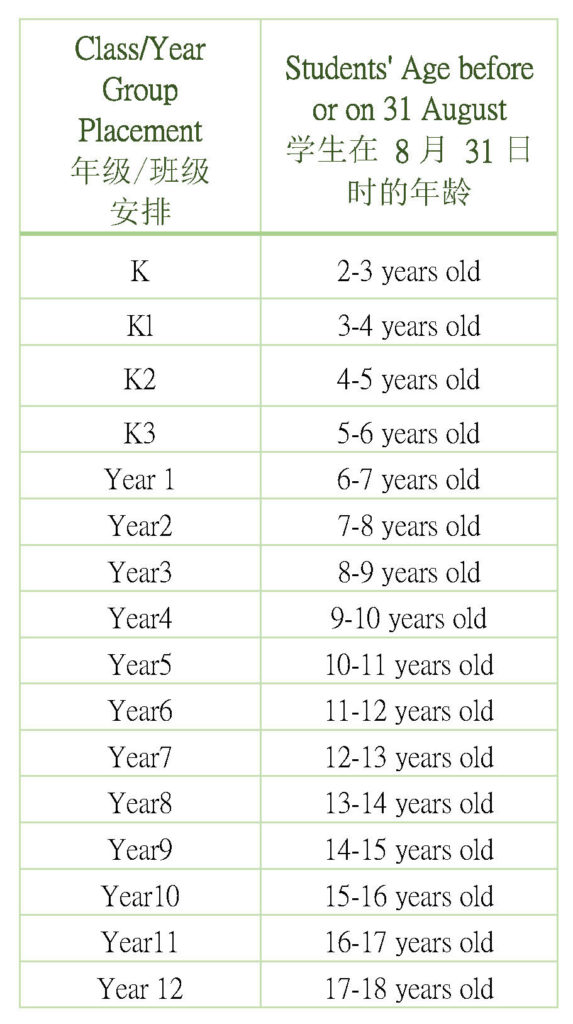 The school year at UISG starts in August and concludes in June of the following year.
Students are assigned into classes according to his/her age by 31 August and with respect to their past education experiences in comparable schools.
For students that are joining from countries with different school calendars (such as those commonly found in South Korea, Japan, Singapore, or Australia) students year level placement will be decided by the Head of Division factoring in the student's UISG enrollment date, their most recently completed year level at their previous school, and academic history.
At UISG, we are intentional about ensuring that each of our homeroom groups is a balanced reflection of our learning community. We consider each student's academic history, language profile, age, gender, and nationality when making the appropriate homeroom placements. To ensure this diversity and support the learning of all students, UISG is not able to honor parent requests for specific teachers or homeroom placement.
If you have any questions about your child's appropriate year level placement, please contact our Admissions Office for further information.