We are delighted that you are interested in joining our vibrant international learning community at Utahloy International School Guangzhou (UISG). Here, every student receives the individualized support and attention needed to be successful. Our school prides itself on international and intercultural education, a nurturing and diverse learning environment, our Mother Tongue language program, and an inquiry-based curriculum delivered through the highly regarded International Baccalaureate Programmes.  
We recognize that applying to a new school in a new country can be a daunting task for families, so our Admissions Team is here throughout the process to provide support every step of the way. Our online application system allows you to easily provide the necessary information and documentation to support your child's application. 
We welcome you to apply for admission to UISG and encourage you to put full time and effort into completing your application. Before you begin your online application, be sure you've taken the time to review our Admissions Procedures page which outlines all of the requirements for enrollment eligibility, as well as the list of information you will need to submit to complete the application.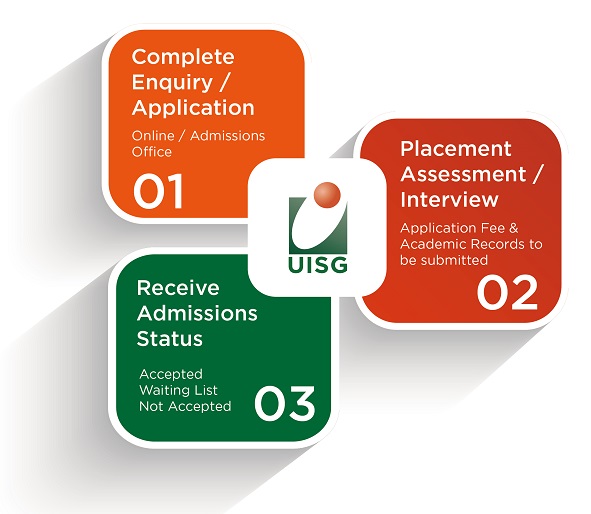 Step 1: Complete the UISG Application form through our online application portal
Step 2: Upload all of the necessary supporting documentation to our online application portal
Step 3: Submit the Application Fee of 2000RMB for each new applicant
After these steps have all been completed, our Admissions Office will guide you through the review process and schedule any necessary assessments or interviews for your child.
Please note that the Admissions Office cannot review any applications until all required steps have been completed.
Now you're ready to start the application! UISG uses our OpenApply online application portal to collect new application from prospective families. 
Click the link Apply Now link below to get started!
As you work through the online application, our Admissions Office is available and delighted to answer any questions you have about the admissions process or about UISG. If you have any questions or technical difficulties, you can contact us via email at admissions@uisgz.org or you can call us at (+86) 020 8720 0517.
Below we've prepared a list of responses to our most frequently asked application questions to help support your family.